#repost, #farmerymilk
A Yoga Instructor shares her Top Tips for Expecting Mothers
Farmery team caught up with Varuna Khullar, a certified Yoga Teacher, and Yogipreneur to understand the benefits Yoga can bring to expecting mothers.
BONUS: Varuna shared 3 specific Yogasanas to help expecting moms in 2nd or 3rd semester.
Varuna believes that Yoga deserves to be an integral part of our life. A regular practice prepares the person physically, emotionally and spiritually to manage the stress that's part of all our lives today.
The stress can accumulate really fast when you're an expecting mother!
Pregnancy changes your body. It is a time when your body is really stretched to accommodate the baby. The spine, lower back, legs, and feet prepare for handling the growing weight. Hormones are constantly changing and creating havoc in the system. Extreme fatigue, aches, and pains, nausea, cravings and insomnia become our constants.
Now, if you mention this situation to Varuna, she has a simple message:
Varuna espouses a 2P Mantra for expecting mothers who choose to consult her – Be Positive, and Be Patient.
Varuna contends that a 30 minute a day practice, 2-3 times a week gives you a host of benefits that come with the practice. She particularly recommended three asanas for mom-to-be in their second and third trimesters.
The Butterfly Pose –
This pose stretches the inner thigh, groin, and knees and stimulates reproductive organs. It helps greatly in reducing abdominal pain, which is common during pregnancy. It also aids proper digestion thereby providing relief to pregnant women who suffer from heart burns and digestive disorders during pregnancy.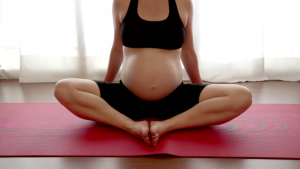 The Warrior Pose-
This stretches both the upper body, the back, and the lower body. It improves circulation, helps with balance, and encourages deep breathing. These will all come in handy during pregnancy, labor, and childbirth.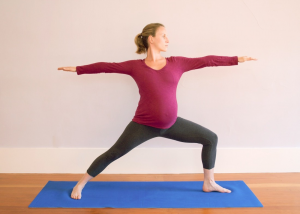 Mal Asana-
This involves sitting in the squatting position which strengthens your core and the lower back.
Malasana stretches the thighs, groin, hips, ankles, and torso. It tones the abdominal muscles and improves the function of the colon to help with elimination. This pose also increases circulation and blood flow in the pelvis.
In addition, Varuna suggested to do squats.
10-20 squats twice or thrice a day prepare the pelvic floor for easy delivery. It eases body stiffness and back pain that comes with increased weight. Problems like indigestion and swelling of the feet can also be controlled.
The Yoga practice works great on its own. But nothing complements it better than a healthy diet. Small, timely and nutritious meals are important for maternal and child health.
Having said that, Varuna exercises a word of caution. She strongly recommends consulting a certified yoga instructor to discuss the routine that'll work best for you.
Binging on YouTube videos, or Yoga books that teach you how to do Yoga can be tempting. But a certified teacher understands the effect of Asanas on your body. He or she can take into account things like your personal medical history to avoid the Asanas that you may find particularly difficult.
Watch Varuna's interview- here