Juggling in a busy work life amidst the stress and performance pressures is no cakewalk. Health and well-being are so easily neglected due to lack of time and inability to follow a timed exercise regime. From a company's point of view, it is imperative to manage the teams and their moods to ensure they are in their best shape to perform. And there comes in the fact that a wholesome wellness of both the mind and the body is important for the organization as a whole to reach its objectives.
And bearing this in mind, #Maruti Suzuki Corporate House in Gurgaon invited V to conduct her Corporate Happiness Program for 40 senior executives  from Operations Production Control Unit and related verticals. V's Corporate Happiness Program offered the Unconditional Laughter Therapy which can be practised anytime anywhere and is an instant stress buster as well as health recharge potion.
This hearty session was followed up with a soulful time out #Meditation on LIVE instrumental music experience. In between,  V & Suzuki executives interacted on the essence of synchronized breathing with group exercises  as easy mediums to maintaining a healthy lifestyle as well as boosting bondings in the team.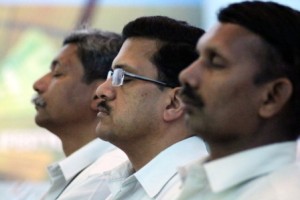 At the end of the two hour session; some shared they have not laughed so much in many years, others said that they feel they have done a workout but with some never before experienced joy while some just sat silently attuned to their inner self. 
Somewhere, don't we all have the same goal – leading SIMPLER, HEALTHIER & HAPPIER LIVES? 🙂
We bring you this exclusive video of the Corporate Happiness Program conducted by V at the Maruti Suzuki Corporate House in Gurgaon. Check how V helped 40 senior executives from Maruti Suzuki to Laugh and relieve their stress with her simple yet effective laughter and yogic exercises.